Rock Cakes
These are always popular, particularly as they are so easy to make and take up little fuel. Ingredients:
8ozs [250g] flour,
3ozs [75g] sugar,
1/2 teaspoon spice, a little milk,
1 reconstituted egg,
4ozs [125g] mixed dripping,
cooking fat and margarine,
3 or 4ozs [75-125g] fruit,
1 teaspoon [1x15ml spoon] baking powder and a pinch of salt.
Sieve all dry ingredients together and then rub in the fat until the mixture is like very fine breadcrumbs. Then add the egg blended with the milk and not with water, so as to make a very stiff mixture. Lastly the fruit. Put in rough heaps on a greased baking tin and cook in a rather quick oven for 20-25 minutes with the dial at 6 or 425-450ºF [225ºC gas mark 7].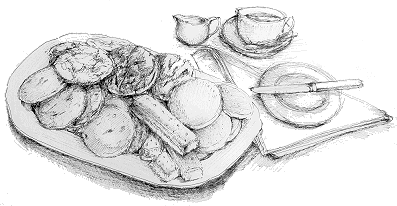 Syrup Biscuits
Ingredients:
4oz [125g] flour,
2ozs [50g] fine oatmeal,
2 ozs cooking fat,
2 tablespoons golden syrup,
[3x15ml spoons]
1 reconstituted dried egg [1 egg] and a bare 1/2 teaspoon baking powder.
Mix flour and and oatmeal and rub in the fat, then add the baking powder and mix well. Warm the golden syrup with a very little milk and then blend with the egg which is better for being reconstituted with milk and not water. Stir all to a stiff paste and roll out on a floured board to about 1/8 inch (3mm) thickness, stamp into rounds, prick as directed and bake for about 15 minutes with the dial at 3 or 4 or 375ºF [200ºC; gas mark 6]
These recipes are taken from a wartime catering manual Recipes of the 1940s by Irene Veal.