Orange Biscuits without sugar
Oranges were very hard to come by in the 1940s. This recipe dates from 1940, and is perhaps optimistic in expecting the use of such a rare item. The taste of orange is very faint, but helps to disguise the unappetising white fat. We sweetened the biscuits with condensed milk, but the recipe just says 'sweetened tinned milk' so we think it probably used sweetened evaporated milk. Tinned milk was not rationed in 1940 (it was later put onto 'points' rationing).
Wartime Recipe
ingredients
8ozs flour
1 teaspoon baking powder
Pinch of salt
3-4 ozs white fat or margarine
Grated rind and juice of ½ an orange
1 tin 'Selsa' sweetened milk

Method
Rub the fat into the sifted flour
Add the baking powder and the grated rind of the orange, and salt
Bind with the milk and orange juice
Knead and roll out to ¼ inch thickness
Cut into fingers or rounds
Bake 20 minutes at Reg 3
These biscuits can be flavoured with grated chocolate if liked

Cost 1d per portion

Children from Underhill Junior School, High Barnet, helped us to test the recipes;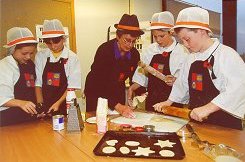 Claire: These look like proper cookies, and they aren't quite as revolting as the cake.
Tom: I can't taste the orange at all.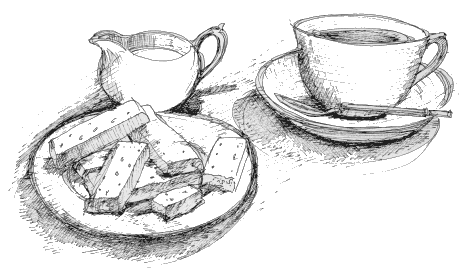 Modern Recipe
Preparation time: 35 minutes
Serves: 20

Ingredients
100g margarine
250g plain flour
5ml spoon baking powder
Pinch of salt
410g can evaporated milk
Grated rind and juice ½ orange
Instructions
Preheat the oven to 160ºC, 325ºF, Gas Mark 3.
Rub the margarine into the flour until it resembles breadcrumbs. Add the baking powder, the grated orange rind and salt.
Bind with the evaporated milk and the orange juice.
Knead and roll out to a 5mm thickness. Cut into fingers or rounds.
Bake for 20 minutes in the preheated oven.
Leave to cool on a wire rack.
Foot notes
These biscuits can be flavoured with grated chocolate if preferred.
Robbie (on his third one); These are really delicious: you can taste the orange and the butter.