Muffins
Historical recipe
Muffins
1lb fine oatmeal,
1 tsp salt,
1 oz compressed yeast,
½ pt warm water and milk
Sift oatmeal with salt, cream yeast with sugar
Add milk and water, make a hole in middle of oatmeal, pour in yeast and milk, mix to dough of rather soft consistency.
Arrange a layer of flour 2 inches thick on wooden tray or board - make holes in flour. Into each put small portion of dough cover with blanket. Stand near fire till dough has risen. Cook on heavy iron sheet over fire.
Source: This recipe is taken from a handwritten notebook of recipes collected by Margaret Wales (1898-1993). It was probably compiled in the early 1920s soon after her marriage. Margaret noted that 'This recipe is over 100 years old'. It is reproduced courtesy of her family.

---
Find out more about muffins.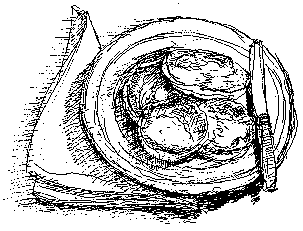 Back to the menu.
Or back to the main Museum.