The Second Generation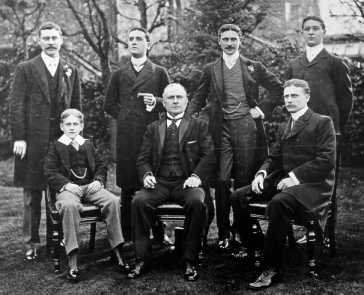 John James and his six sons in 1896.
John James' and Mary Ann's six sons all played important roles in the family firm. All of them gained experience working in the shops before taking on specialist responsibilities.

b1871 d1956
John Benjamin was born above the Drury Lane shop and from an early age was trained to take over his father's role at the head of the firm. He later recalled:


I remember wearing a small white apron (made especially for me by my mother) to fill the position of Egg Boy in the shop on Saturdays. How proud I was to be able to bank one shilling out of my wage of one shilling and sixpence [7.5p] for services rendered!


b1872 d1964
George, the second son was also born at Drury Lane, but the family moved to Kentish Town before his first birthday. George joined the family business in c1886 became responsible for the firm's accounts. His neat signature is visible on many early ledgers.

b1877 d1955
Frank showed little inclination for a career in retailing and was sacked as manager of the shop at 18/20 Seven Sisters Road, Holloway after his father caught him riding around the store on a bicycle, weaving between the customers while giving orders to the staff. Frank was sent to work for a trial period on the farm of a family friend. This proved so successful that John James eventually established Frank on his own farm. He supplied eggs, pigmeat and poultry to his father's shops.

b1880 d1962
Arthur became Sainsbury's provisions buyer, purchasing perishable goods like butter, pigmeat and eggs for sale in the shops. He also managed the factory which made Sainsbury brand pies, sausages and cooked meats.

b1884 d1965
Alfred was responsible for the management of grocery department, which purchased packaged goods like tea, sugar and canned foods. Before taking up this job he was trained by George Payne, a tea merchant based near Tower Bridge, who supplied Sainsbury's tea.

b1890 d1982
Paul, the youngest of the brothers, was born in 1890. He was almost twenty years younger than his eldest brother and joined the firm in the same year as his cousin Alan, John Benjamin's eldest son. Paul trained as an architect before becoming responsible for Sainsbury's building development.
Copyright J Sainsbury plc, 2000.