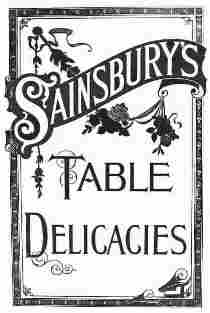 Advertisement c1900.

The panel here was originally used at Kingsland, East London. It was made of glass and was painted in subtle shades of brown and gold. The Dutch term 'delicatessen' was not widely used until after the Second World War. More common were the descriptions 'table delicacies' and 'charcuterie'.

Below the panel would be a wide range of table delicacies such as 'Boar's Head (1s 8d per lb); Breakfast Sausage (8d per lb) and Rolled Tongue - perfection - (1s 8d per lb)'.

The 'Table Delicacies' were the company's speciality, many of them bearing the description, 'my own make' which meant that they were prepared at Sainsbury's Blackfriars kitchens.

There was quite a wide variety of cooked meats, including Oxford brawn, roast beef, chicken and ham roll, ox tongue, meat and fish pastes. The premium product was cooked York ham, which was displayed on pink and white china stands. Sainsbury's manufactured most of its own cooked meats.

Go back to inside the store.

Copyright J Sainsbury plc, 2000.